red
You will be once you see my new Valentine Kit…Twitterpated-full of 18 vintage papers in brown, pinks, reds and greens with over 35 fun embellies to dress up any layout! It's ONLY $3.75 for a limited time so fly on over and pick it up soon! Click on image to go to my store.


As a fun FREEBIE to get you in the Valentine mood I've created a fun set of "Tweat Wrappers" for your favorite valentine's!! Set of 5 can be resized to fit all sorts of treats for the holiday. Includes bag topper, Hershey wrapper, pillow box, take out box and sucker wrap. Let me know how you like them! Click on image to go to the download.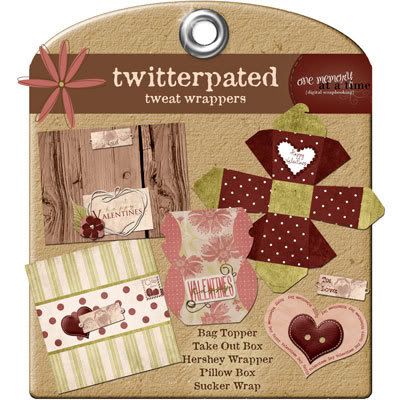 Have you seen my new Black Tie Kit? It's not just for those fancy events, but versatile enough for everyday photos too! Look at how versatile it can be! PLUS you receive the pink add-on pack for free!!

FOR THE NEXT 24 HOURS ONLY-post HERE your favorite item from this kit and I'll draw 2 lucky winners who will get it for FREE!!