I have a new release out and it's all for the boys! 

It has 50 elements, 20+ papers and 1 alpha. I also decided to boost it into a bundle with the addition of some fabulous journal cards, masks and paint splatters! I think everyone has a boy in their life that they would love to scrap. Possibly your husband, son, dad or friend. So often the pinks, purples and reds in scrapbooking kits aren't exactly a perfect match for our rough and tough boys, so I figured it was time for a boy kit. Don't worry! I have thrown in enough flowers to give you something to cluster or to use the kit for non boy layouts too:)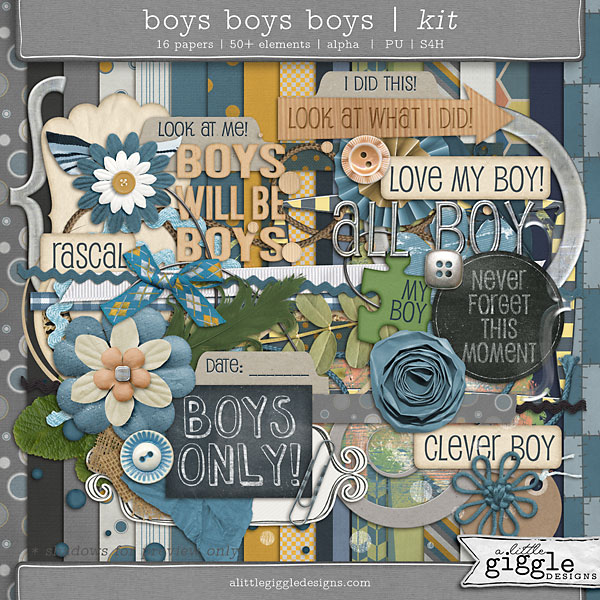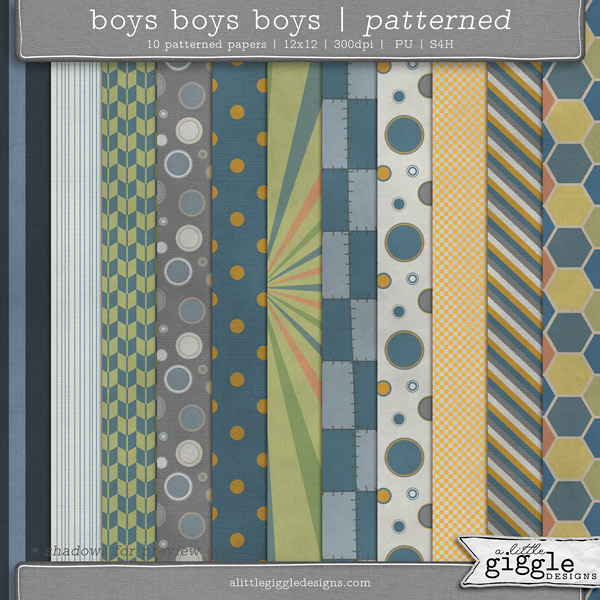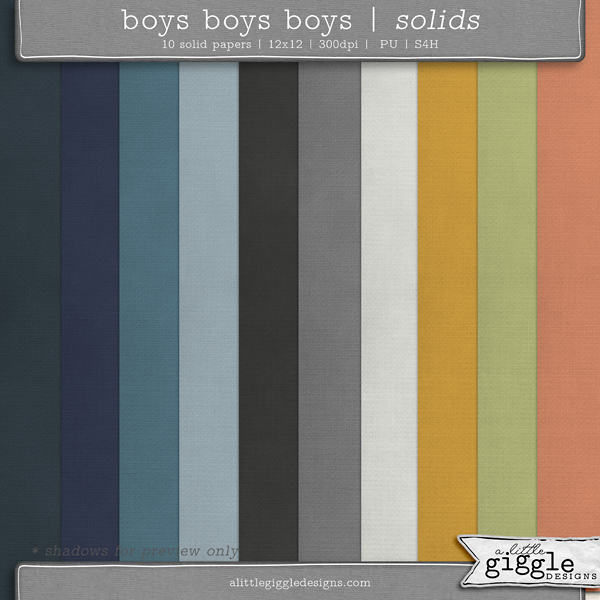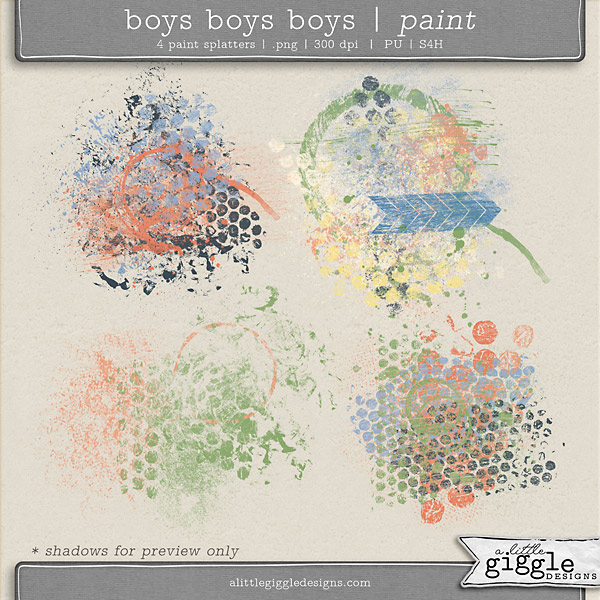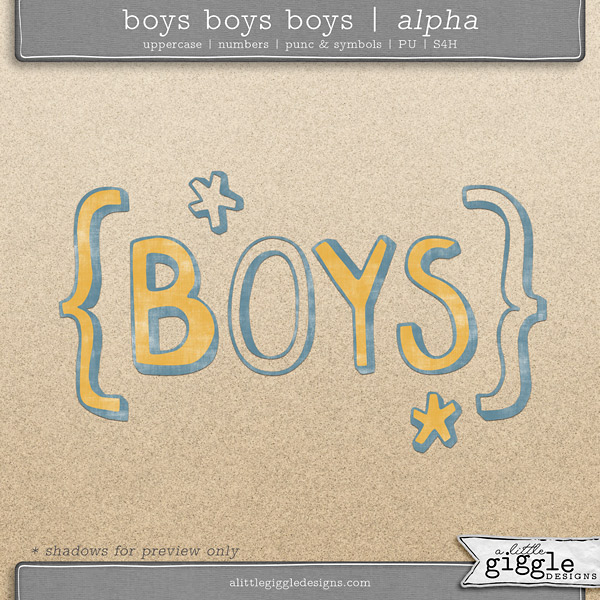 Here are a few layouts created by my super talented Creative Team and the Supreme Team girls using the bundle. Enjoy!






AND… it's ON SALE! If you'd like to grab this kit, it currently is on sale and you'll receive 30% off until 5th April '14. Click here to check out the bundle!

I thought I would do a little add on freebie for you to enjoy:) Click on the image to download it.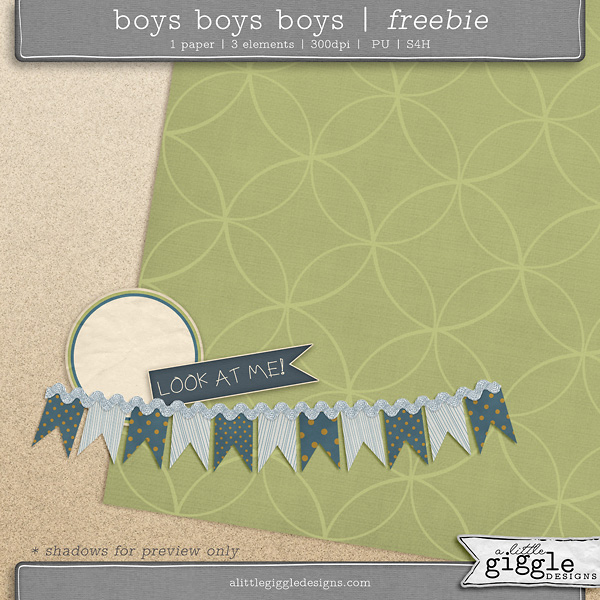 Having trouble with the download? Click here to download instead.
Have a great week everyone!
Dodie
x
Spring is finally here! Flowers are blooming and the butterflies are in flight!  This bright springy kit, Blooms and Butterflies, is perfect for scrapping your flower garden or a lovely spring day.  This kit contains 40+ elements, 18 papers, and an Uppercase Alpha w/Numbers and Symbols.
My CT did a lovely job with the kit.
Once again, Catherine has turned a few of her layouts into quickpages for you!  You grab the first one by clicking HERE or on the iamge below.  The second one will be available at a later date, so be sure to check back.
Don't forget that you can use my current promotion to get this kit at 25% off!
With St. Patrick's Day around the corner, I am putting Lucky Monkey on sale for just $3.00 through March 18. Combine it with the promo codes above and save even more!
Here is a page I did with Lucky Monkey last year.
I have a few more products coming up later this month and exciting news for things to come in April. Be sure to check back!
Commercial Use Designers Mix Elements 3
A variety of elements for all types of Easters Kits
from Vintage to Present Day

Visit my store HERE
Ginger's Scraps N Pixels
For your Commercial Use Items
Lots to share with you today.
First, I'd like to announce my new kits at the store.
Both have cards free with the purchase during March.
I'm sure you don't want to miss them.
20% off until March 9th
Remember I'm giving a full kit to my newsletter subscribers. Click on the image bellow or on the News button in my signature. Visit my Facebook Page for further information.
My Daily Download is a pack of flairs that coordinates with Lucky to Have You Kit. I hope you enjoy it!
First…..it's party time!!!
Now that that's out of the way….you don't want to miss today's Daily Download!!
Free for the next 24 hours!
Why you ask??
Because it's an Add On to my BRAND NEW
AND….there's a special coupon inside to save even more!
Find out all about it HERE
New Release!!
I am very please with my newest kit
"Angels Among Us"
It is a very special kit in remembrance of
my sister, Sherry who earned her wings on December 27, 2013.  
The kit is so beautiful that it can
be used for other themes as well.
This first Layout is very special to my heart
it was designed by "Hy Ellen" using an image of
my sister, Sherry and myself 
Easter 1956.
As you can see from these Amazing Layouts 
this kit is great for just about anything.
There are 30 beautiful papers, 1 full Alpha
and 118 Elements. No duplicates … all
are unique!
And now here are some beautiful freebies
 that goes
 with this special kit!
and you can get it

HERE

 by visiting my blog
Next freebie on the list will be
on March 4th…you will need to travel
to grab this one!  Not to mention that a
new Facebook Freebie is posted each and
every week!!
And one more Freebie..this time a 
Mini Sample Kit
on March 13th
at GoDigitalScrapbooking
Not to mention that there is a free
Daily Download Rewind each and every 
DAY!!
Can handle another Freebie???
I am hosting with Dana's Footprint Design
a progressive challenge at
GoDigitalScrapping!!
Wildflowers  …
Starting March 1st…
about every 3 days you will receive a
few more pieces of the kit and instructions
on how to use them.
The goal is to complete 1 layout by the end
of the month with instructions given.
Last month was my first to ever take part
in a progressive scrap and I had the best time!!
Just remember you must sign up for the

FORUM
in order to participate!
I have tried to put links  attached to all the
purple words to make
it easier for you.
Inspired by the painted sky, Paint Me A Sunrise combines artistic endeavor with nature's beauty.  This paint themed kit deviates from the norm with a beautiful color palette in pinks, yellows, and greens.  Paint Me a Sunrise features watercolor papers, canvas inspired elements, and sunrise enlightened hues. With 50 elements, 18 papers, and a lowercase alpha w/numbers in 2 colors, this kit can be used again and again.
Paint Me A Sunrise will be 25% off through the end of the month!
The GDS Supreme Team did an amazing job showcasing this beautiful kit!
Catherine turned 2 of her layouts into Quickpages for you.  You can grab the first one on my blog. Click HERE or on the image below to visit my blog.
The second page will be the GDS Daily Download on Monday, February 24. So be sure to check the Daily Download thread on Monday!
Today I woke up to find myself completely buried under snow.  I love snow!  Its so beautiful.  I love how it takes our bleak landscapes and transforms them into something so breathtaking.  I am extra excited that its not in the single digits anymore either!  We were actually able to be outside for an extended period of time and not be frozen solid after 15 minutes!  We had a blast and then we had to shovel out our driveway.  Lucky for us, hubby has a snow blower so our backs feel great!
I have a new for you today, called Love Birds.  Its perfect for all kinds of Love.  Young Love, new Love, Love that has grown over time, parent to their child(ren) Love, kid Love, and of course love of chocolate!
CT Inspiration