Monthly Archives:
October 2008
Just Perfect for Your Halloween Layouts…
It's a Spooky Template from Andrea Gold!
You Can Snag It HERE!
Happy Halloween Everyone!
It's that time of year where we get to celebrate the wonderful, artistic, creative and addicting industry all of us love….Digital Scrapbooking!Join us all weekend for fun & games, including a big Scavenger Hunt for pieces of a collaboration kit our designers made for you, a speed scrap, a crop chat, RAKs, and a chance to win a HUGE grand prize in our Queen/King of DSD layout contest.
We're even running a 40% sale thru Monda (excluding printing and GoDigitalClasses) so don't worry, you've got plenty of time to shop! What an excellent way to stretch those dollars and get our new November collaboration kit that will be unveiled tomorrow! Any purchases made will enter you into a drawing to win $25 to spend in our store. Each 25th purchase will render you a $5 coupon to our store!
Keep an eye here in this forum for more details to come!
Look what we have today from Majula Designs!
It's a beautiful QuickPage from her Wuschel Page Kit!
You Can Snag It HERE!
Enjoy!
How about an awesome template from Doreen for free today?
Use the pages individually or put them together for a great two-pager!
Get it here and enjoy!!
Helen's put together a great set of speech tags for you!  You can get them for FREE by clicking here.
Can't wait to see how you use these on your layouts!
Enjoy!!
I've added two new kits to the store this week..
Absolute Boy, a GREAT MEGA kit full of fun masculine colors and textures, perfect for all your Boy layouts!
Also, a beautiful kit inspired by family, home and all that we've been blessed with, Blessings is so big, I didn't have room to include everything in the preview!  Lots of wonderfully rich colors and details.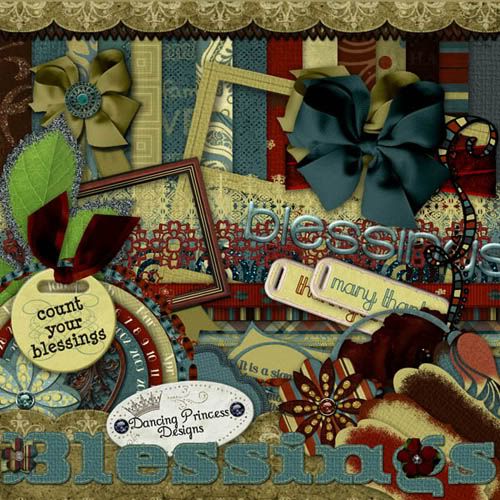 Both kits are on sale this week for 25 % off!  You can check them out HERE!!
Thanks for looking and have a WONDERFUL DAY!
Jenn of Dancing Princess Designs
Here's a sweet paper mini from Jillybean Designs!  These papers will look great on boy or girl layouts!
Grab this freebie here and be sure to take a look at the coordinating kit, Neopolitan Twist!
Thanks for stopping by!
Here's an absolutely gorgeous flower for you from Bianca!  Who wouldn't love to pick these from their garden?
Be sure to pick it up for FREE here!
Enjoy!
Are you ready for Halloween!  Well how about a little quickpage from Christy Skaggs to put you right in the mood!
Thanks Christy!